This store is for customers living in California only. If you would like to purchase our wine and live outside of California, click link below.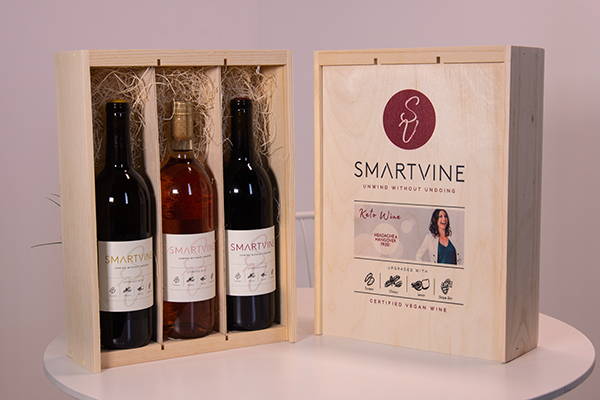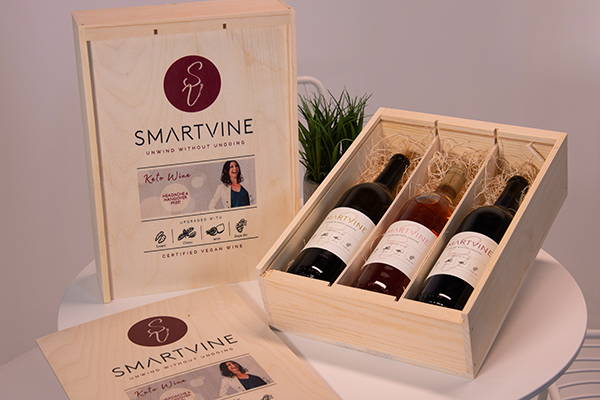 SMARTVINE GIFT BOX
Introducing the Smartvine 3 pak gift box! This custom build wooden box delivers 3 bottles of wine; Red, White and Rosé. Packed in aspen excelsior, it's an amazing housewarming or holiday gift that introduces friends and relatives to our delicious Certified Vegan, Keto-Friendly wine!
FREE SHIPPING!!  (A $25+ savings)
---
TASTE (Perfect for tasting)
Sourced from Santa Barbara County, California
A coral colored rose that has a bright citrus nose and flavors of grapefruit, mandarin and strawberry. This is a lean and bright rose that is very refreshing!
50% Sauvignon Blanc & 50% Grenache Blanc Sourced from Santa Barbara County, California
Like a perfect black dress; it goes with any occasion whether dressed up or casual. A balanced, aromatic & crisp white wine that offers hints of lemon peel, honeydew melon, pomelo, and honeycomb.
70% Grenache & 30% Malbec Sourced from Santa Barbara County, California
This wine is like your favorite pair of heels; they look good with anything (from jeans to cocktail dresses), feel amazing, and you always get a compliment. A harmonious blend of Grenache and Malbec offers a wine that is bright and welcoming while still offering a serious structure.
EXPERIENCE (Perfect for sharing)
ENJOY (Stock up for events)